Try Cleaning Your Own Carpets
Renting or purchasing a carpet cleaner can be an inexpensive alternative to hiring a professional service
Save money by cleaning your own carpets. Roughly 42% of all carpet cleaning is performed by do it yourselfers.
Professional carpet cleaners will typically clean 5 to 7 rooms (or 1,000 square feet) for about $300. Each year nearly 6 million do-it-yourselfers rent a carpet cleaning machine from their local supermarket or hardware store.
Renting a carpet cleaner and buying the necessary cleaning supplies will cost around $40. If you prefer to own rather than rent, the machines cost $600 to $700.
For added value, some of these machines can also be used to clean upholstery, furniture and stairs with hand tool attachments. Some can also clean hardwood floors, ceramic tile and cement floors.
Cautionary Advice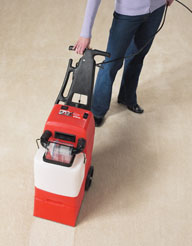 Over-shampooing: when too much rug shampoo is used or the carpet is not adequately rinsed. These problems are almost inevitable with some wet do-it-yourself approaches. This is the biggest reason why you should occasionally have your carpets professionally cleaned. If you don't, the build-up of soapy residue can be impossible to clean out, leaving a carpet that is a dirt magnet.
Over-wetting: when too much water soaks into the carpet and carpet padding. Make sure that the carpet does not become too saturated as this can cause damage and may lead to problems like bacteria and mold spores. Carpet fibers never should require more than 24 hours to dry with proper ventilation.
Carpet that is allowed to remain wet for longer than this could develop mold and mildew. Some backing materials may cause the carpet to discolor if they get too wet. Some carpets will shrink, and may even tear themselves up from the floor.
Once the backing and pad get too wet, it is very difficult to dry them.
Stains caused by furniture: Some stained wood furniture may spot a carpet if left in contact with the wet carpet surface. Some pieces of furniture may have feet that are partially metal. The metal can leave a rust stain in the wet carpet. Protect the carpet while it is drying by putting aluminum foil, wax paper, or plastic wrap under furniture legs. This will prevent rust and other stains from transferring from the furniture to the carpet.
Use caution when cleaning carpets made from of wool or other natural fibers. Such rugs may require special care when cleaning and need special cleaning solutions that will not harm the fibers.
Here is an instructional video on how to use one of the more common brands of carpet cleaning rental machines, a Rug Doctor: Discover the professional cleaning power of Rug Doctor.
Keywords: do it yourself, carpet cleaning, carpet cleaners, Rug Doctor, rent a carpet cleaner
---
Comments & Reviews:
Posted by
HC
from Hyannis, MA on 04/20/09
I rented one of these machines once and tried to clean my rugs myself. I rented it from my local supermarket. I don't think it was a Rug Doctor machine, but I can't recall. In general it was allot of work and the rug was cleaner, but because of a few tough spots I didn't get the results I was looking for.
I ended up hiring a professional cleaner to come and clean a few spots where the rented machine didn't quite do the job. If you're carpets are not heavily stained or spotted you may be all set with the rental and a little elbow grease, but for me, I will stick with hiring a pro.